Ancient shrine worshiping the Emperor Chuai and Empress Jingu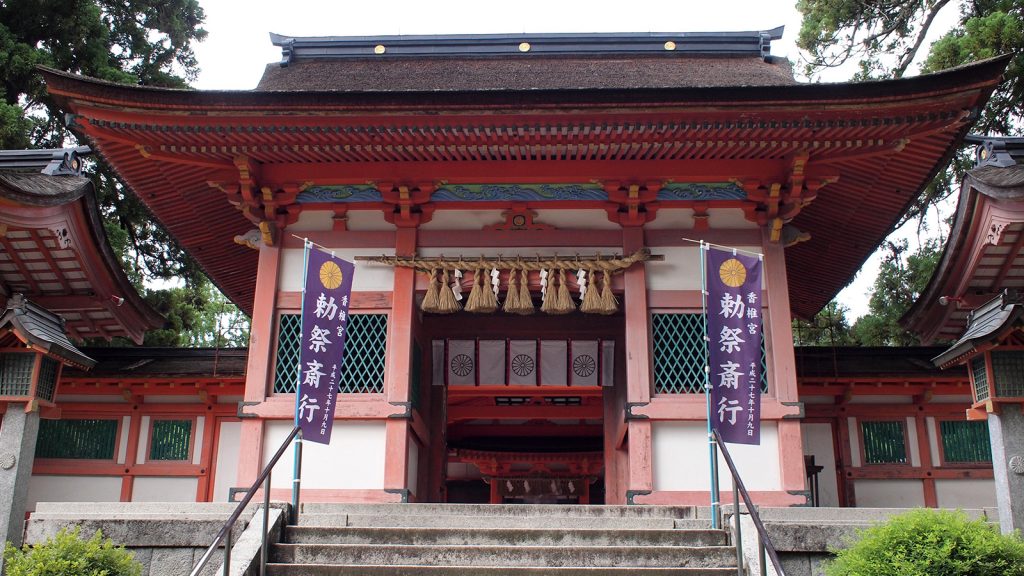 About 30 minutes by the train from Hakata, and it took about 10 minutes from the Kashii Jingu station on foot. Looking at a fine torii and the wide but well-trimmed  grounds, I felt that the shrine has been carefully handed down from ancient times to now by the local people. Recently I'm reading "KOJIKI (folk history)", it was a strange feeling being the shrine that actually appeared in ancient legends. There is the Takeuchi shrine where "Takeuchi no sukune no mikoto" is enshrined. Takeuchi no sukune no mikoto also appear in folk history. Walk a little from KASHIIGU, there are fountain spring called "Furo-sui ( Immortality water)" which is selected for Japan's best water 100. It is opening by 15:00, this time I had enough time. On the way to the spring I passed some local people who has plastic tanks filled with water, so the water is drunk by local people on a daily basis. I also had little. I wish my aging would be slow down.
History
The Emperor Chuai went to the area to conquer Kumaso (a tribe living in the ancient Kyushu district), he passed away before achieving his ambition. Then his wife, the Empress Jingu built a mausoleum for him which is the origin of this shrine. After that, the Empress Jingu Mausoleum was also built, the main shrine was worshiped the Empress Jingu to the Taisho era, the Emperor Chuai had been enshrined in the old palace. Now the Emperor Chuai and Empress Jingu are enshrined in the main shrine together and the Emperor Oujin (the sun of the Emperor Chuai and Empress Jingu) and Sumiyoshi no ookami are also enshrined.
Deities Enshrined
Emperor Chuai
Empress Jingu
Blessing
Amulet, Family safety.
Foundation
Chuai Emperor 9 (200 A.D)
Location
4-16-1 Kashii Higashi-ku, Fukuoka city, Fukutoka
Photo Gallery
---