Thousands of red Torii invite you to the another universe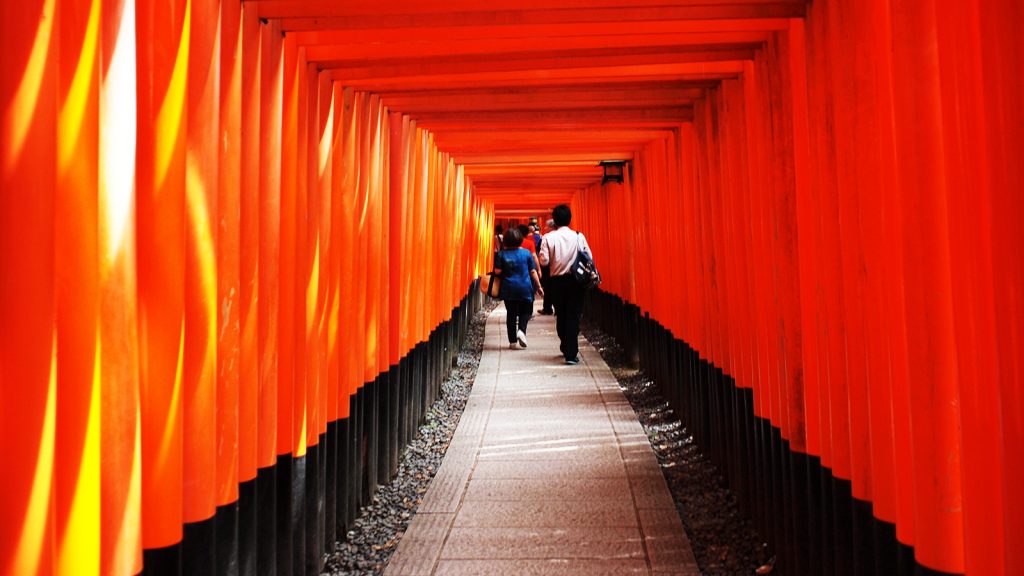 Fushimi Inari Taisha is located just in front of the Inari statoin of JR Nara line. there is a lot of tourists and you can see the flags that appeals this place is selected as Japan's number 1 tourist place by trip adviser. whole site of the shrine is very huge, a mountain itself is the shrine site. If you wish to see all of the site you need to wear walking shoes and have plenty of time. Thousands of red Torii continues to all the approach in the shrine site, each of Torii is dedicated by companies wish for business success or personally by the people wish their happiness.
History
The head shrine of 30,000 Inari shrines in Japan. Fushimi Inari Taisha traces its origins back to 711 A.D. Based on an ancient document, a member of powerful family Hatano-irogu shot arrow on rice cake, then the rice cake transformed into swan. The swan flew away to Mt. Inari, and rice plant ripened where the swan landed. Therefore a shrine built there and enshrined as a deity of agriculture.
Deities Enshrined
Ukanomitama no Okami
Satahiko no Okami
Omiyanome no Okami
Tanaka no Okami
Shino Okami
Blessing
Bumper crops,  business prosperity
Foundation
Wado 4(711 A.D)
Location
68 Fukakusa Yabunouchi-cho, Fushimi-ku, Kyoto City, Kyoto
Photo Gallery
---