About 7 million people a year visit, The deity is Tenjin, Sugawara no Michizane.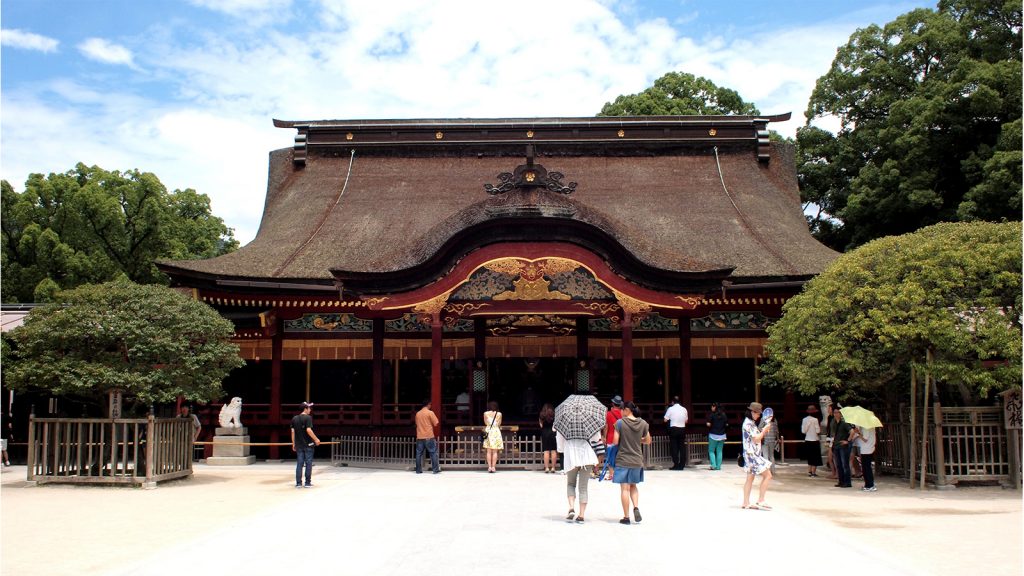 About 20 minutes by train from Fukuoka Tenjin area, the Dazaifu of Dazaifu city was crowded with a large number of tourists in spite of the weekday. The approach was lively, there were people who eating "Umegae-mochi(Rice cake)" the specialty of the Shrine. There is no so called "original" shop for Umegae-mochi, then I searched popular shop on the internet and visited "Teradaya". I bought some for takeout, also ate at cafe space. it was fragrant and delicious. I have been to the shrine several times so far, and I realized again that how spacious this Shrine is!I think there are not so many shrine has such a broad lot in Japan. There is even an amusement park. Life is full of studying, I prayed for academic achievement.
History
The head shrine of about 12,000 Tenjin shrines nationwide.It is known as the deity of learning.the shrine is built on top of the mausoleum of Sugawara no Michizane, and it was established in Engi 19 (919AD). Sugawara no Michizane was a "Minister of the Right (the second minister)", but he was demoted by his political enemy's artifice. 2 years later, he passed away. Since then in Kyoto there was freakish weather and pestilence, The Imperial Court decided to establish a shrine in order to calm the spirit.
Deities Enshrined
Sugawara no Michizane
Blessing
Academic achievement, job fulfillment, good luck charm
Foundation
Engi 19(919 A.D)
Location
4-7-1 Saifu, Dazaifu-city, Fukuoka
Photo Gallery
---