A modern shrine in the business district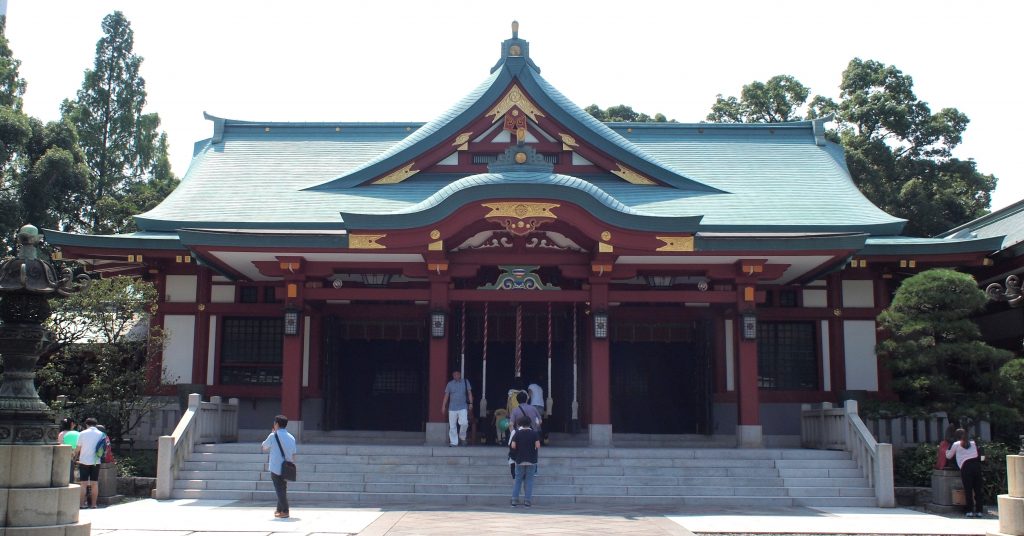 Hie shrine is close to my workplace so that I have been interested in the shrine.When I visited there, first I was surprised that there was a big escalator behind a Torii gate!and I thought this is the shrine in the business district in Tokyo.By the way, this entrance stands out than the another entrance in Sanno Otokozaka, however the latter is the main entrance.Also, I was surprised at Chozu-ya house.Water came out automatically when I approached.Other than that, in rest place, there is a wistaria-trellis which sprays mist to cool down the area. Also there was a stroller parking.looked like a modern shrine.
History
One of the Tokyo ten shrines, It is said that has been built in Kamakura era, but the details unknown. The origin is at Mount Hiei. During Edo era, the shrine has been worshipped as the guardian deity of Edo by Successive Shoguns and people in Edo. After the Maiji Restoration Edo Castle became the Imperial Palace and the shrine also became the guardian of the imperial palace. Sanno Festival of Hie Shrine, is honored as the "Tenka matsuri (National festival)"/"Goyo matsuri (Shogunate Official Festival)" along with the Kanda Festival. There are also a divine favor of easy delivery, and sacred ceremony for child's health.
Main Deity Enshrined
Ohoyamakuhi-no-kami
Deities Enshrined
Kunitokotachi-no-kami
Izanami-no-kami
Tarashinakatsuhiko-no-mikoto
Blessing
Amulet, easy delivery, marriage, prosperous business
Foundation
Unknown (Enshrined by Ota Dokan in 1478 A.D)
Location
2-10-5 Nagatacho Chiyoda Tokyo
Photo Gallery
---